Keith Z. Brewster Interview
Interview with Keith Z. Brewster of Stober Family Foundation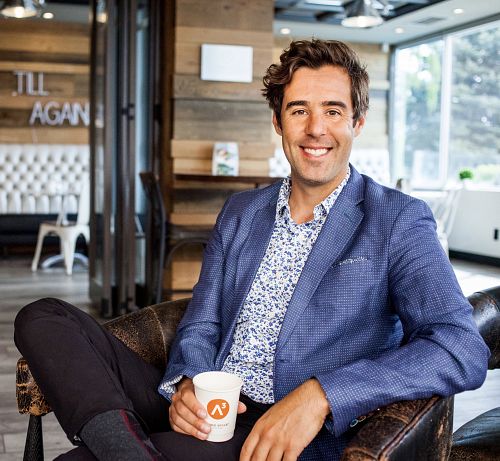 Recently, we spoke with Keith Brewster, Director and Lead Philanthropist of the Stober Family Foundation about the organization and its decision to support Mary's Meals Canada.
Can you provide us with some background on the Stober Family Foundation?
The Foundation was created by Albert and Sandra Stober, who have enjoyed considerable business success in the development and construction sectors in British Columbia's Okanagan Valley. As a way to give back to the communities they serve, the Foundation was established in 1992 and has provided grants to local projects in south-eastern British Columbia, but has also expanded its work to support national and international charities and humanitarian projects as well.
What criteria does the Foundation use to select charities and organizations that it wishes to support?
A: Our goal at the Foundation is to support charities and organizations that are creative, innovative and, above all, produce sustainable initiatives that make their communities a better place for all. We're passionate about supporting the Okanagan communities who have helped us grow and flourish, but we also seek progressive national and international charities that support initiatives in continuing education, mental health, technology and medicine.
Why did the Foundation choose to support Mary's Meals Canada?
As we reviewed the application from Mary's Meals Canada, we noted the organization's innovative and sustainable approach to providing one nutritious meal per school day to children in their place of learning in the developing world. We were also impressed with the commitment to community involvement in the countries where Mary's Meals operates by having local volunteers cook and serve the food that's prepared for the students. This approach helps keep overhead low and ensures more money flows directly into the feeding programs while giving community members a voice in how their children are being fed.
What has the Foundation pledged to provide to Mary's Meals Canada in terms of support?
The Foundation has committed to provide $50,000 over the next two years to support Mary's Meals Canada. While COVID-19 has disrupted their work in Zambia due to closed schools, Mary's Meals staff and volunteers in Zambia have stepped up to fill the gap through community feeding programs.
Where can we learn more about the work of the Stober Family Foundation?
Our website provides an extensive overview of all details pertaining to the Foundation and its approach to philanthropy. On our website, you'll find out all about who we are, what we do, who we've partnered with, and upcoming capital projects and collaborations! The lighter side of what we do can be found on Instagram.
Our goal on both our website and social media isn't as much about sharing our story but instead engaging the next generation of philanthropists across our communities. Philanthropy isn't all about writing cheques, it's about caring, leaning into generosity, and working together to make the world better for others. By that definition, we can all adopt a philanthropical life, by incorporating and sharing our respective skills, passion, and resources!