Toronto volunteer to swim from Alcatraz for Mary's Meals
Toronto volunteer Liz Lambert is about to take on a huge challenge to provide a daily meal for 656 children at Habitat Primary School in Malawi, Africa.
Many of us who celebrate our 40th birthdays opt for a dinner out or a fun evening with some friends. But Liz Lambert, a volunteer for Mary's Meals Canada in Toronto, has been preparing for her 40th in a very unique and selfless way. After 8 long months of training, Liz is excitedly making final preparations for the big birthday celebration - a first-time 2 km swim in the Alcatraz Invitational, all in support of children who don't have enough to eat, or the opportunity to go to school. Braving the elements, such as cold water, waves and strong currents (hopefully no sharks), Liz is embracing her new "no fear" philosophy and replacing fear with faith and hope - hope that will be given to 656 children at Habitat Primary School in Malawi, Africa. By reaching her fundraising goal of $10,496 daily meals will be provided to each of the children at Habitat School for one year, giving them food to eat, along with energy and the ability to focus on their studies.
Thank you to Liz for her ongoing support, and for taking on this ambitious goal. She are an example of how one person can make a big difference to many in need. If you'd like to support Liz's efforts, visit her fundraising page here.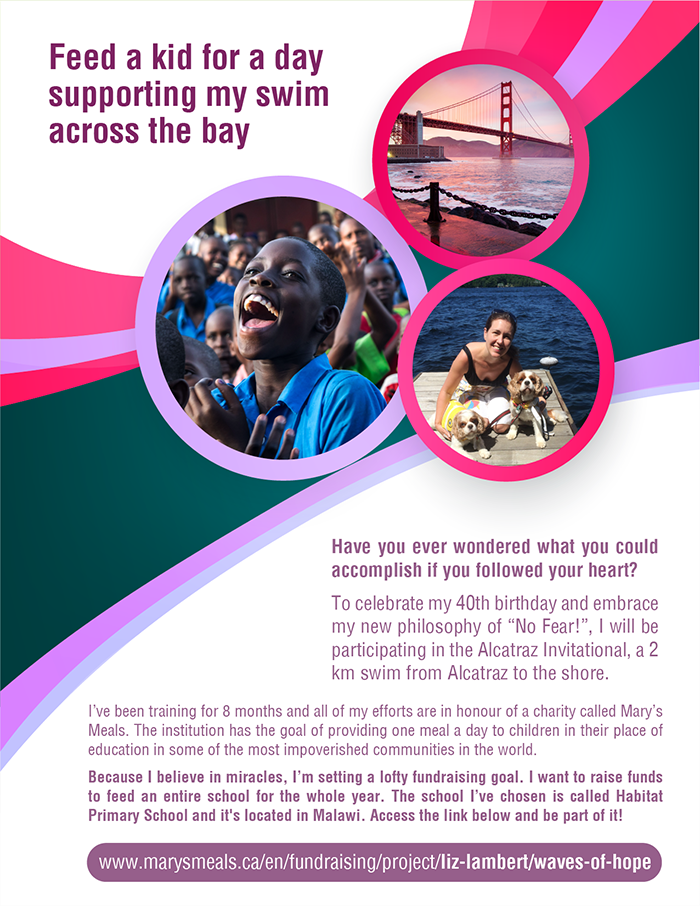 There are many different ways you can help by donating your time, money, thoughts and prayers.