Thank you, Universal Church Supplies!
One of the beautiful things about being a part of Mary's Meals is that we come together as a family to serve and care for children around the world.
Our approach is very simple –providing a meal for a child in their place of education – and yet the roots of this work run deep. Universal Church Supplies in Edmonton have joined with Mary's Meals Canada during the season of Lent to help reach more children with a needed daily meal, and the chance to receive an education which can free them from poverty in future. Thank you to Roger, Store Manager at Universal Church Supplies, as well as volunteers Brenda-Janine and Janice who have set up a beautiful Mary's Meals display in the store to offer customers the opportunity to learn about, and join our mission. We trully appreciate your kindness!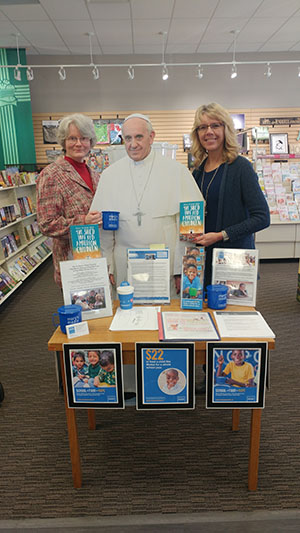 If you are in the Edmonton area, please pop by and visit the store and our display. If you know of a store that may be willing to display our brochures, or other information about Mary's Meals, please contact us. And to sign up for our weekly Lent reflections, visit our Lent is... page here.