"Our children will be healthy and happy"
New communities in Malawi discover that school + food = hope
With the recent start of the new academic year in Malawi, new schools are sharing the promise of Mary's Meals with more than 10,000 learners.
This year, 14 schools in Nkhotakota, a rural district known for its sugar cane production on the shore of Lake Malawi, will begin to serve Mary's Meals, so throughout August, new volunteers were identified and trained in preparation for the new term.
Schools in Benga Parish are large – sometimes with more than 1,000 students enrolled – and it's not uncommon for these children to walk for more than an hour before finally reaching the classroom door.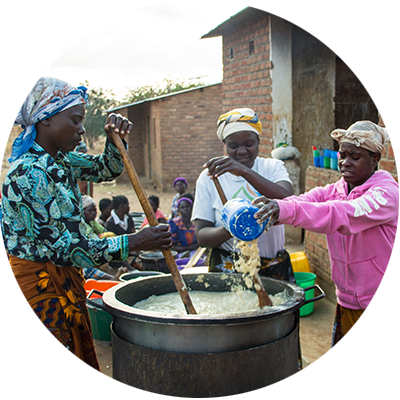 It's easy to imagine, therefore, the difference the introduction of the school feeding program will have on these young lives. And the communities are excited by the prospect!
At each school I visited, construction of the new kitchens was well underway, and the volunteer committees, which will be responsible for the day-to-day management of the program, were taking shape.
One of the new volunteers I met was Dzunga Fraser who was looking forward to four of his children enjoying a hot cup of phala every school day morning. Understandably, he was excited that Mary's Meals is coming to his children's school, and keen to take an active role.
"It [Mary's Meals] guarantees that our children will be healthy and happy when learning," he explained. "As a father, it will be my role to help out here. I'll gladly come to cook and be part of the community which will be helping. I'll be happy about it."
In fact, all those I spoke to had great hope of a brighter future for their children. Head teacher at a neighbouring school Steven Mankhwazi, for example, was eager to see how the phala will unlock his students' potential.
"This school will change in the next couple of years because children will be attending school without having to worry. They will be fed, which in turn, will make them healthy and full of energy."
Back at the training session, new volunteers were led through the cooking process. And when they finished, they had a chance to sample the porridge they had made.
And the general consensus? It tastes good.
With the school feeding program now up and running, I'll be back soon to meet some of the students receiving Mary's Meals every school day to see how the phala is making a difference to their daily lives.