National Volunteer Week April 24 - 30, 2022 Part 2
The National Volunteer Week theme for 2022, Volunteering is Empathy in Action, affirms the strong connection between volunteerism and empathy. This profoundly human connection is at the heart of healthier individuals and stronger communities.
At Mary's Meals, we are focused on one goal – that every child receives a nutritious daily meal in a place of education.
​These life-changing meals attract hungry children into the classroom. It fills their empty bellies so they have the energy and opportunity to learn and gives them the chance of a brighter future. The meals also support families struggling to feed their children while boosting the country's wider economy.
Our school feeding programs are owned and run by community volunteers in the countries where we provide food. For example, there are over 80,000 volunteers in Malawi who take turns to prepare, cook and serve the daily meal in each school.
Meet Gertrude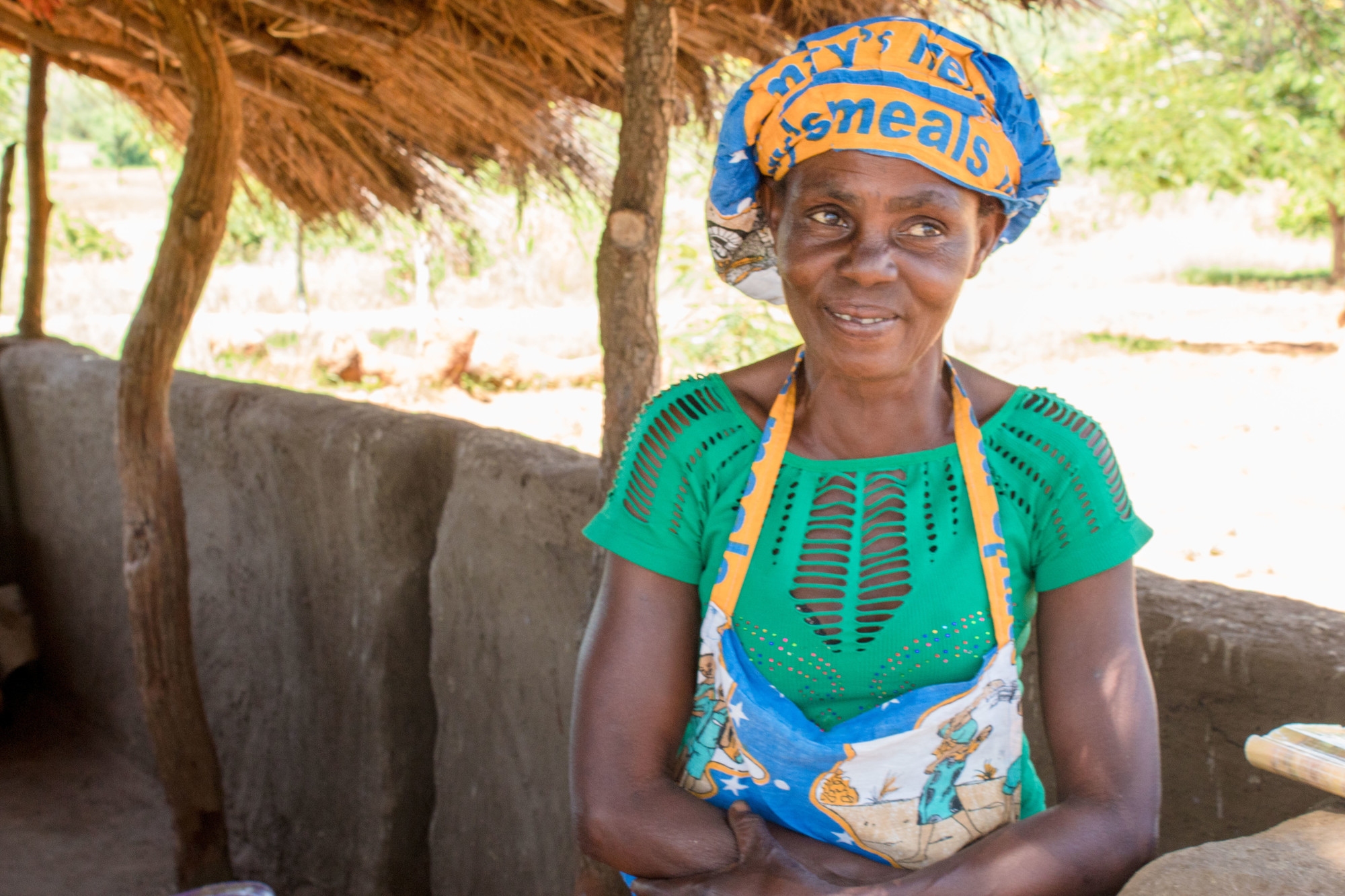 Gertrude has been a volunteer at Kawambe Primary School in Zambia since 2015. She has 5 children at school in grades 1, 3, 6, 7 and nursery school.
Gertrude says the following about why she volunteers for Mary's Meals:
"I see the children come back to school in large numbers since the program began because they feel good after they've eaten.

"I began volunteering so the children can benefit from this phala. It helps them to be healthy."
Gertrude volunteers throughout the day to help cook and serve meals to chlidren at the school.
"I volunteer here in the morning and the afternoon, when I go home I cook nsima for the family. I end up cooking four meals a day!"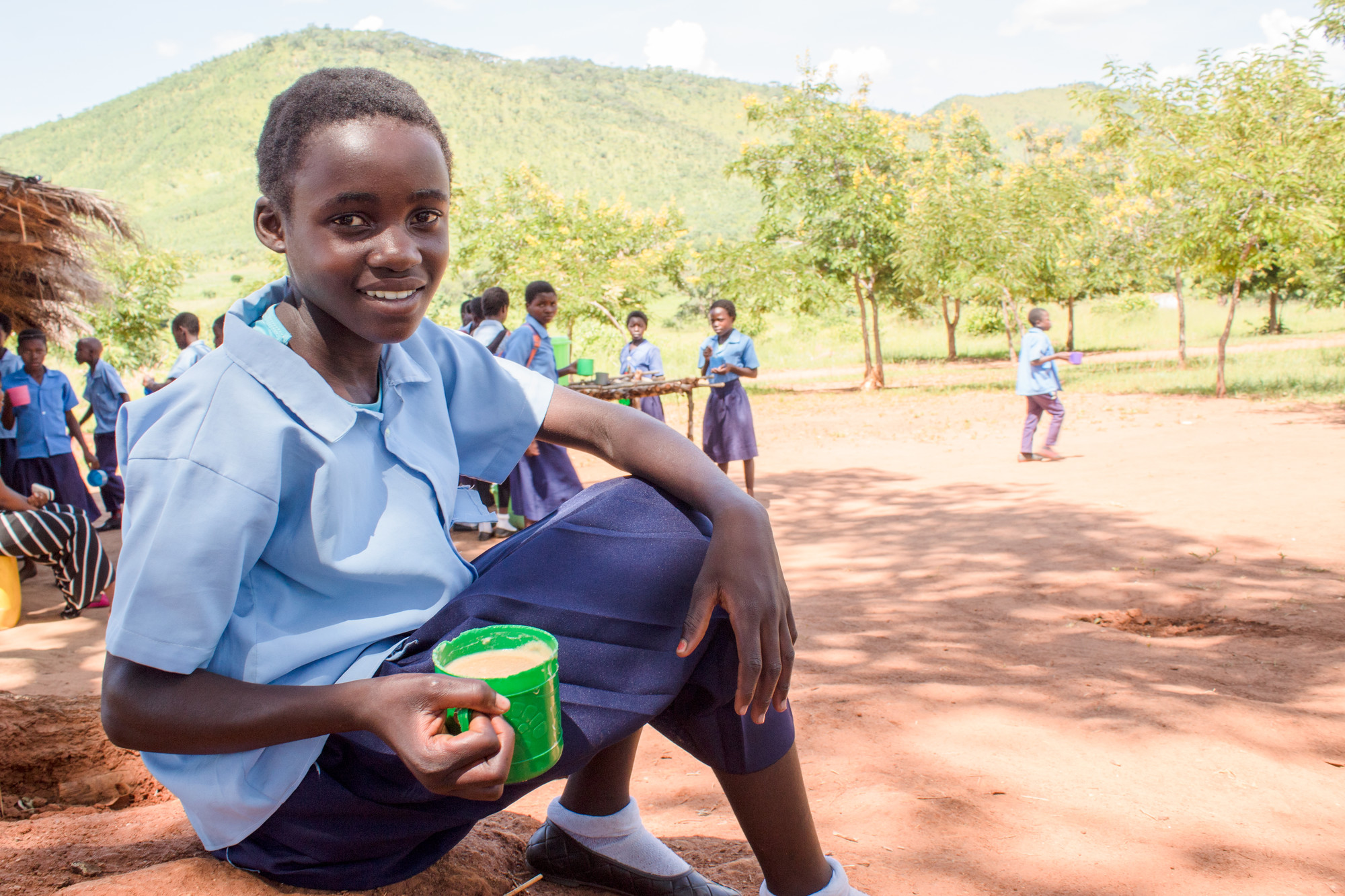 Gertrude's selfless service helps many children, like Olivia, at the school.
Meet Olivia
Every morning before school, 14-year old Olivia gets up early and goes to work on the family farm. When she gets back from the field, Olivia helps with the household chores before setting off on the hour-long walk to Kawambe Primary School. She arrives to her first meal of the day – a steaming hot mug of Mary's Meals porridge.
"I feel good when I eat, because I come back from the field in the morning on an empty stomach," Olivia says.
"I feel very hungry when I get to school. In the future, I want to be a teacher," she adds. "I am inspired by my teacher here at Kawambe. My favourite subjects are English, maths and social studies. I like English because I want to know how to speak it."
Like most people in this part of Zambia, Olivia's parents grow food for their family on their small plot of farmland. It is a precarious life. This year, the family already see that the upcoming harvest will not be good, as a result of poor rains. Times are tough, and Olivia only eats once a day at home. On weekends she sometimes goes out to look for paid work, so she can earn money to buy soap and wash her school uniform.
As food becomes increasingly hard to come by, the promise of a nutritious daily school meal offers a lifeline for girls like Olivia.
"Phala (porridge) fills me with energy," she says. "It helps me to concentrate. "School is important, because when I have finished, I will be able to support myself, and have the money to buy most of the things that I need."
Thanks to Mary's Meals, and volunteers like Gertrude, Olivia attends lessons with a full stomach, instead of skipping class to work or scavenge for food. She also has plenty of energy to play with her friends.
Thank you, Gertrude, and ALL of the Mary's Meals volunteers, who selflessly give of their time to literally feed Mary's Meals to the children. We could not operate without your help!