Our Communications Officer Fatima joins the children of Neno District, Malawi, to celebrate the arrival of Mary's Meals at Mlemeka School.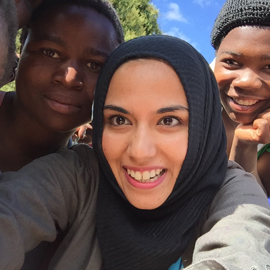 Fatima Khonat
Deep in the hills of rural Malawi, far from wifi and the glow of electricity, is Mlemeka School in the Neno District. It is school to some of the warmest and most enthusiastic students I have ever met, and it's one of the many schools that Mary's Meals expanded its feeding programme to earlier this year.
To celebrate the introduction of school feeding, teachers and students decided to organise a grand opening assembly inviting parents, volunteers, local chiefs, Ministry of Education officials and some Mary's Meals staff members - which included me!
Myself, Dalitso, Lovemore, and Johnny on route to Mlemeka School, Neno
The road to Mlemeka School is truly off the beaten track; we passed small villages made up of small mud houses and straw roofs. We watched women with children on their backs and buckets of water on their heads walking barefooted up winding dust roads. All the while, dozens of excited children tried to run alongside us laughing and waving with joy as this large vehicle slowly drove past them on the dusty roads.
After driving for almost two hours through villages, up hills, over broken bridges (only stopping for chickens and goats to cross) we arrived at our destination.
Students surround the car clapping and singing
Very quickly, excited students surrounded us clapping and chanting, "Mary's Meals". With the sun beaming down on us, I slowly took out my camera from within my backpack. Excited looks quickly transformed into curious expressions as though the children were asking, "what is that you're holding?" Grabbing the opportunity to take a quick snap, I showed them the picture of themselves. To my joy, laughter erupted and children tugged at me to take a picture of them while others danced and jumped singing, "Mary's Meals is here!"
Children pose to take photos and show a thumbs up to you all!
After being introduced by the head teacher to the members of staff, village chief, head of the school feeding committee and Ministry of Education officials, we were asked to take our seats in the school field for the opening of the assembly celebrating Mary's Meals at the school.
For a better view, I moved into the best seat in house - alongside the children on the dry ground – and listened to speeches by the guests and watched presentations by the children in the Malawian language, Chichewa.
Speeches made by various guests and teachers
Very quickly, I realised it didn't matter that I didn't really understand a word of what was being said, the laughter and smiles from the children, the happiness from the teachers and the appreciation from the village chief and Ministry of Education officials said it all.
Mary's Meals provided a turning point for all in this community. And that's the message they wanted us all to know. Because after the first day of school feeding here, these children became motivated, mothers became determined and teachers became hopeful.
Mrs Zolongati, a volunteer cook at Mlemeka School
Prior to this day, children were missing school due to hunger. Many were helping their parents in the fields to earn a small amount of money so that they could perhaps eat one basic meal in the evening.
But as Mrs Zolongati, a volunteer cook with three of her children attending Mlemeka School told me, "Mary's Meals isn't just about food for the children or even better health. To us in this community it's a symbol of progress. It's knowing I can cook for the children of my community each morning so they can eat, learn and be independent. It shows there is life."
It was an amazing few hours and I was genuinely saddened to say goodbye to all of Mary's Meals' new friends, but I've been eager to share my experience with you – because it's such a good testament to the impact that Mary's Meals has here in Malawi.
To share in one of the highlights from this visit, watch some of the students in this film as they perform the song they wrote, 'Mary's Meals Never Gives Up'.