Families are working hard to prepare their fields for planting. But, for now, painful hunger goes on.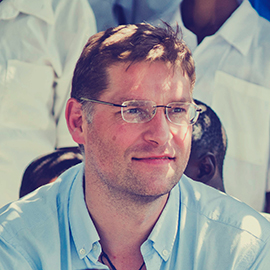 Magnus MacFarlane-Barrow
Mary's Meals founder and CEO
Rain! Wonderful, heavy rain just arrived, soaking the parched Malawian earth. It may not have lasted long but, in every field, families are working to prepare for planting. They pray it will continue to rain – not too much and not too little – so that this time their seeds and labour might bear fruit.
Even if the rain does continue to fall, it will be many months before harvest. For now, the people suffer painful hunger.
Fatsileni, 11, rises early and works in her family's field for two hours, making neat ridges in which they hope to bury precious seeds. She then walks a mile to school, her stomach still empty. "Sometimes we haven't eaten in days, so my tummy aches and I feel weak," Fatsileni, who has seven siblings, explains.
Earlier this year, we began serving Mary's Meals in Fatsileni's primary school. "It is a big relief for my parents," she says. "At least they know I have had something to eat each day."
In desperation, Fatsileni's parents have recently resorted to feeding their family maize husks, which are normally only eaten by animals. Catherine, Fatsileni's mother, tells us: "We've gone four days before without eating. We are surviving, but will I be able to look after my children until next year? Mary's Meals is helping me with this – the porridge encourages them to stay in class."
No parent should have to feed their children with food meant for animals. For families like Fatsileni's, I pray the rain will fall kindly and that each seed pressed into the dark soil might produce abundant fruit.
As Christmas approaches, it gives me hope that every gift you give and every seed we plant – in the form of another school meal – might also flower beautifully one day in the life of each child fed.