Mary's Meals Canada Volunteer to Trek across Ireland
Toronto volunteer, Liz Lambert, is about to embark on en epic trek across Ireland to support the students at Habitat Primary School in Malawi
The work of Mary's Meals is often referred to as a series of "lots of little acts of love". The journey made by Liz for Habitat Primary School might be referred to as lots and lots of steps - almost a million, in fact, to ensure that hungry children can be fed and receive an education.
In Liz's words:
"I wanted to say a HUGE thank you for supporting my "swim across the bay to feed a child for a day" endeavour last September. I am ecstatic to report that we surpassed the $10,500 fundraising goal and were thus able to feed 656 children at the Habitat school in Malawi for a year. You can see the difference we've made in the attached report from the school.
"Buoyed by the momentum and faith that together we are improving children's lives, I've been training for a new challenge! This September I'll be embarking on a trek from the Northern to Southern tip of Ireland which is about 650 km!
"It would be amazing if you could help fund this school for another year and spread the word. This year there will be 775 kids attending the Habitat School. Any amount is greatly appreciated!"
Mary's Meals Canada would like to say a HUGE thank you to Liz for going on this journey, raising money to feed children who depend on Mary's Meals, and for bringing so much attention to our work, both in Canada and in Ireland. Liz, we are so blessed to have your support! On behalf of the increasing number of children who are now attending school, thanks to your efforts, thank you for all that you do and give. You are truly helping us to move closer to our vision that every child receives at least one good meal every day in a place of education and that all those who have more than they need share with those who lack even the most basic things.
To support Liz's efforts, please visit her fundraising page here.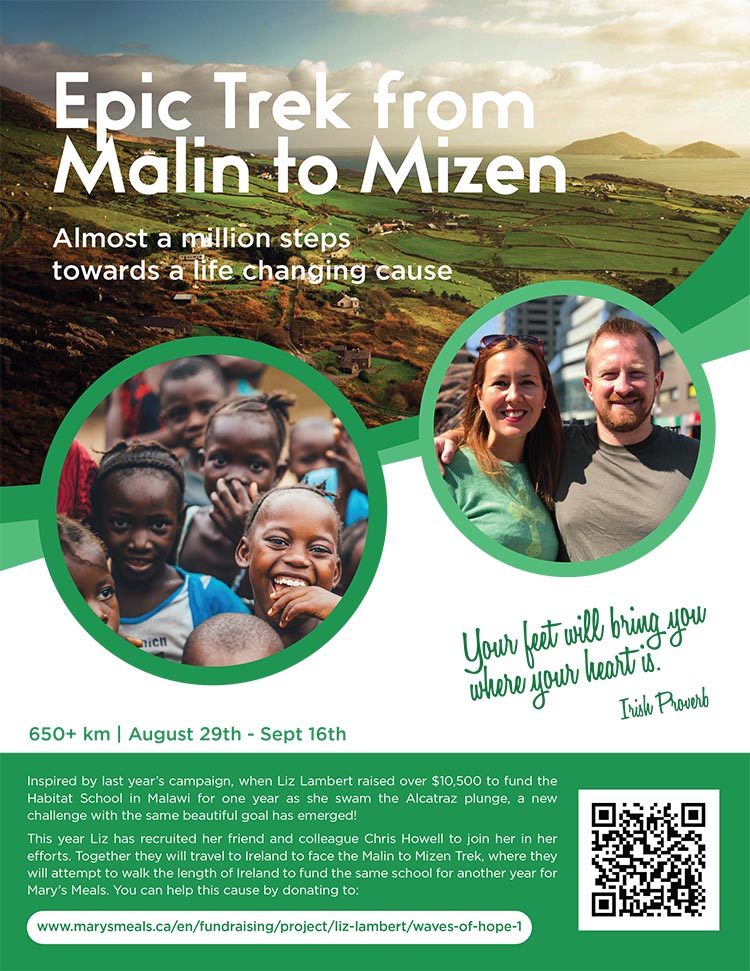 There are many different ways you can help by donating your time, money, thoughts and prayers.