Jimmy from Generation Hope to visit Alberta
Canadian supporters of Mary's Meals are excited to be welcoming Jimmy, from Haiti, to various venues around Alberta. All are welcome to enjoy this very unique opportunity to meet Jimmy and hear his story at locations including in Canmore, Airdrie, Calgary and Edmonton.
UPDATE: Jimmy was unable to obtain a visa to visit Canada at this time. We are very sad that he was unable to visit us at this time, but will work on inviting him at a future date.
One of the stars of our award-winning film, Generation Hope, will be visiting Alberta from September 11-18. Jimmy Belabre is coming to share his story of growing up in a violent slum in Port Au Prince, Haiti, and how Mary's Meals helped him to stay in school and create a future for himself, rather than follow the easier path of gang activity. He will be speaking and performing his music at a a few different locations, including in Canmore at Canmore artsPlace, in Airdrie at Bert Church Theatre, in Calgary at Clear Water Academy and Edmonton at the historic Garneau Theatre.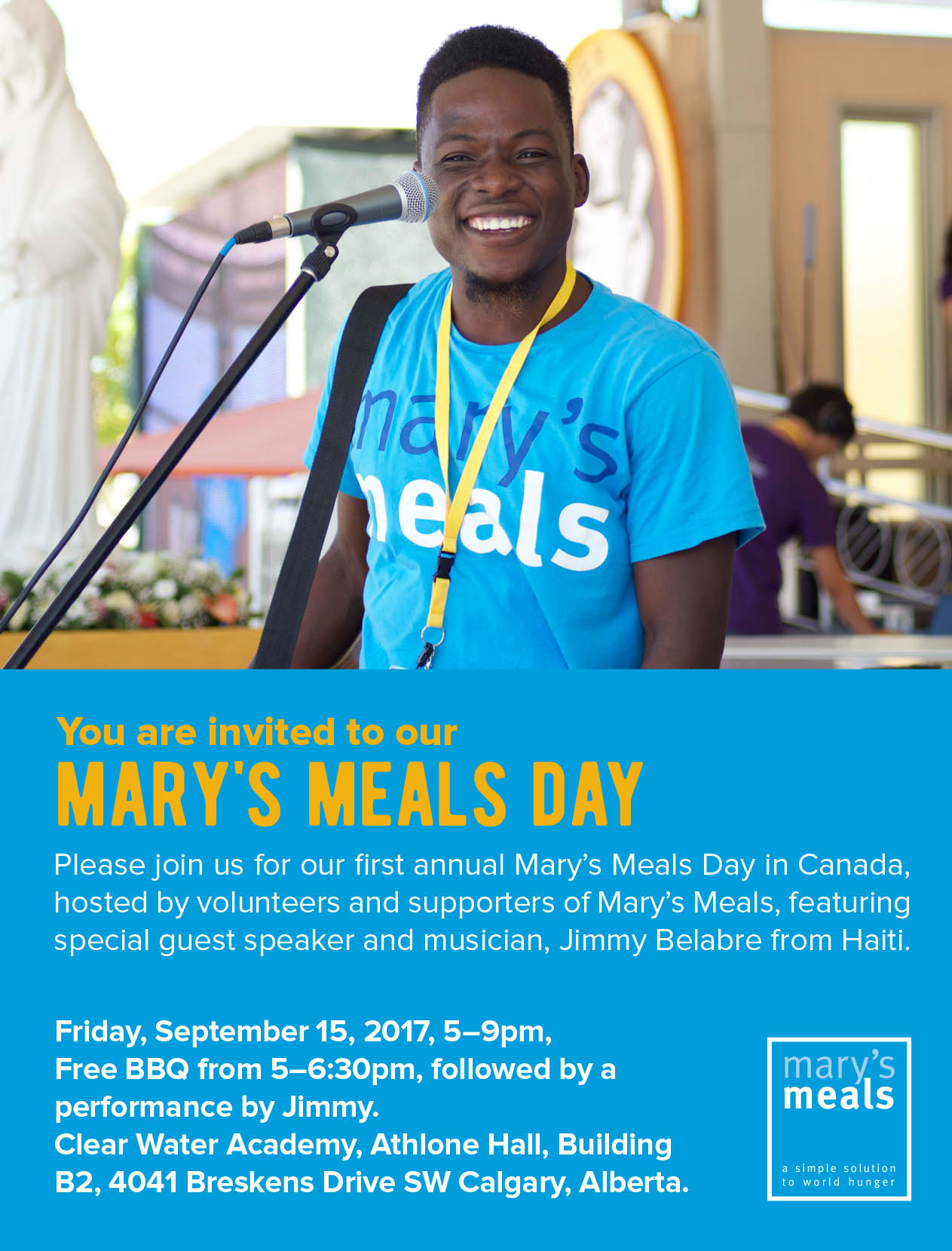 About Jimmy and Generation Hope – Millions of children around the world will never have the chance to fulfil their potential. Hungry and out of school, they miss out on the opportunity to learn, play and work towards a better future. Filmed on location at Mary's Meals' projects in Malawi, Haiti and India, Generation Hope introduces us to a group of young people (including Jimmy) who, having received our daily meals in school, have gone on to further education or paid employment, something they insist would simply not have been possible without the support provided by Mary's Meals.
Join us for an exceptional opportunity to meet Jimmy, who credits Mary's Meals with helping him to stay in school while living in Cite Soleil, Haiti – a place the UN once designated as the most violent place on earth. Hear his powerful story and witness first-hand the impact that your support can have on children all over the world, in desperate circumstances just like Jimmy's.
To reserve your tickets for the Clear Water event in Calgary, please email Jill.Mowser@marysmeals.org with the total number of guests you will be bringing (friends are invited and encouraged).
Other events as follows:
GENERATION HOPE AN EVENING WITH JIMMY BELABRE FROM HAITI, Bert Church Theatre, Airdrie, Alberta, Wednesday, September 13, 2017 7:30 p.m., Admission $10 (proceeds to support Mary's Meals)
Generation Hope - Screening and Performance from Mary's Meals Featuring Jimmy Belabre from Haiti, Canmore artsPlace, Canmore, Alberta, Thursday, September 14, 7:00 p.m.
Child 31, Generation Hope and performance by Jimmy Belabre, Garneau Theatre, Edmonton, Alberta, Sunday, September 18, 2017