Fabulous Fundraising Stories from Across Canada this Spring
As we continue to hear fundraising stories from across Canada from Spring 2017, here are a few highlights. Thank you, Canada, for your continuing dedication to sharing what you have with those who lack even the most basic necessities.
Clear Water Academy in Calgary, Alberta, held a successful "Blue Day" where students donate to Mary's Meals for the privilege of wearing jeans to school. Some very touching stories were shared from this fundraiser, which raised almost $4,300! One student chose to give up his birthday presents and instead, to ask for donations for Mary's Meals, so children in Malawi can have a daily nutritious meal and an education. Here's his lovely note: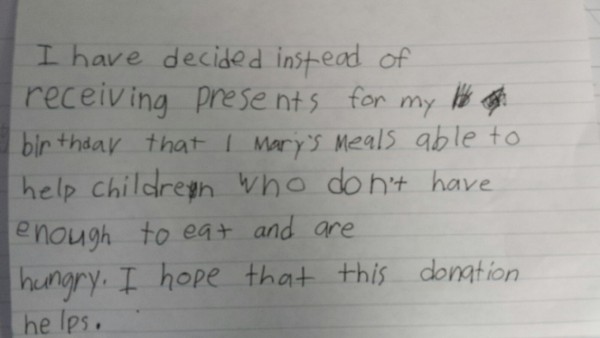 Here's what staff and students from Clear Water Academy had to say:
Our Mary's Meals BLUE DAY fundraiser last Wednesday raised nearly $4,300 ... enough to feed 265 children in Malawi, Africa for an entire year!! We are blessed to have such generous support from our wonderful students, teachers, staff, families and friends of Clear Water Academy. Included in this amount were 2 students' contributions of $1,370 from their birthday and communion proceeds - amazing!
Other Mary's Meals fundraising events that have been held include a Grade 2 class Freezie Sale earning $260, and a Grade 4 Boys' class Bottle Drive earning $216, with more events coming in June. Thank you all SO MUCH!! We're pleased to know that together, we have made a difference in the world!
Other fundraisers from across the country include:
Ecole Notre Dame School in Morinville, Alberta, held a successful pancake breakfast fundraiser in May to raise funds for children living in poverty in Malawi, raising $546.16!
St. Mary School in Niagara Falls, Ontario raised $224.55 for Mary's Meals this Spring!
St. Michael Catholic Secondary School in Stratford, Ontario held a Mass collection for Mary's Meals, raising $240.40! Here's what a teacher at the school had to say:
A couple of times throughout the year, we celebrate Mass as a school community. This gives us an opportunity to celebrate faith and pray to serve the people around us, and our brothers and sisters who are both near and far. Some of our administrative team had first heard of Mary's Meals after viewing Child 31. As a group that knows first-hand the value of education, we wanted to support Mary's Meals in their incredible work through taking up a collection by both students and staff alike. We are honoured to have been able to support such a worthy and noble cause!
Children collecting change through the Diocese of St. Paul, Alberta are helping children to benefit from a daily nutritious meal and an education in Malawi and have already raised $224.50!
Thank you to all those who Canadians won't accept that in this world of plenty, some children do not have enough to eat or the opportunity for an education. If you'd like to share your fundraising story with us so that we can inspire others, please email us at info@marysmeals.ca.
Contact us for more information on how your group can make a difference to children living in extreme poverty. We'll send you a fundraising kit and you'll be on your way to ensuring that more children can have a daily meal in a place of education.