Extraordinary acts of love
Goodson is giving everything he has to build a brighter future for his daughter.
Every day, Goodson Chalimba faces a new battle to provide for his wife and daughter. On a good day he will find 'piece work,' which will hopefully earn enough to buy the maize his family needs to survive.
Goodson and his wife own a small field near their village in southern Malawi. Last year, they grew three bags of maize and ground nuts – food they have long since eaten.
Despite his own hardships, when Goodson was approached by the feeding committee at his local primary school, who asked if he would volunteer to cook and serve Mary's Meals, he said yes.
"Phala is important because it gives the children strength and energy," he explains. "It means they will not experience stunted growth."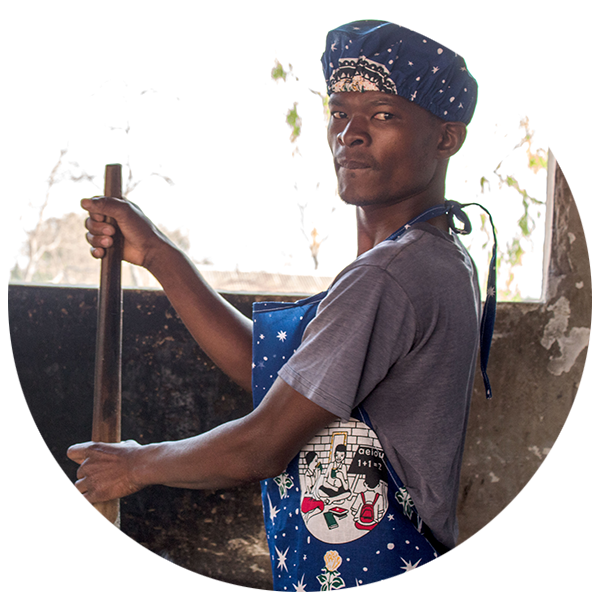 And so, each week, Goodson rises at 4am and walks to the school where he begins splitting firewood and fetching water. By the time he and the other volunteers start stirring enormous pots of likuni phala (porridge), children are already arriving. Only half of them have shoes on their feet, but every one tightly clutches a blue mug.
Once the porridge is served and the children are settled in their classrooms, Goodson and his co-workers clean the pots and sweep out the kitchen. By the time Goodson gets home, it's 11:30am. He takes a short, well-earned rest before heading out to neighbouring fields to find his day's labour.
Another day in the life of Goodson Chalimba – nothing out of the ordinary for him, but something extraordinary to those children he serves.
He is just one of more than 80,000 volunteers in Malawi alone who choose to serve this mission. They are giving all they have to give – their time and energy – to make this beautiful work possible. They are the primary builders of a better future for their children. I am proud to be Goodson's co-worker.
Thank you for making Goodson's sacrifice fruitful. Thank you for ensuring that each morning without fail, there is porridge for Goodson to cook and for the children to eat. I am proud to be your co-worker too.