As we commemorate International Youth Day, we celebrate the youth in our Mary's Meals family, all over the world, who are the builders of a better tomorrow.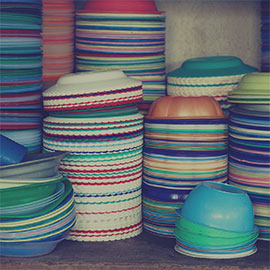 Communications team
When our youth-led Toronto North volunteer team welcomed a "new" volunteer, Harriet (a grandmother who has volunteered for Mary's Meals in the past), there was an instant connection and friendship. Since Mary's Meals is all about sharing "little acts of love" so hungry children can be fed, it was easy to connect Harriet's talent for sewing amazing quilts to raising funds to feed hungry children. The team instantly got busy, and worked on setting up an online shop for Harriet's quilts. Now, even during COVID, Harriet has the opportunity to sell her quilts, and feed a large number of children.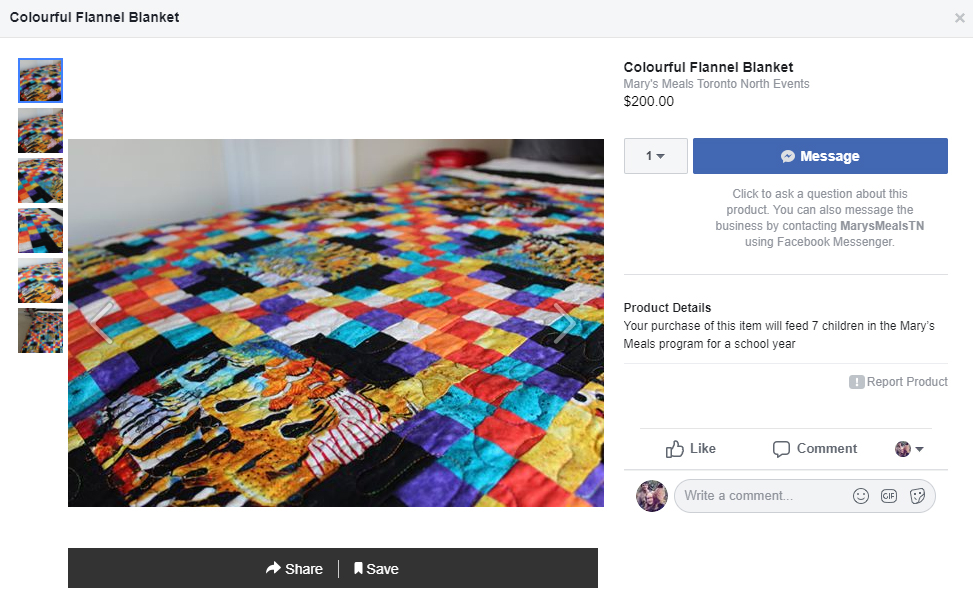 These dedicated youth, teaming up with energetic Harriet, have created a partnership that is inspiring people all across Toronto (and Canada!).
Team Leader, Michal, says, "Dayita and I reached out to Harriet and asked if she felt comfortable sharing her story about how and why she got involved in Mary's Meals. She sent us an email back telling us her story and explaining all of the experiences that made her who she is today. Everything she said showed us how much she cares about helping others and how much of her life she has dedicated to giving back to others. We just really loved the story of how everything she did essentially led her to finding Mary's Meals and how now, she's using her skills and hobbies to give back to the children alongside Mary's Meals.
"I honestly think she's done more to inspire us than we have her, just because its so great for Dayita and I to see how dedicated she is to helping others and so, we're happy to be even slightly involved in spreading that inspiration to our other volunteers and other people."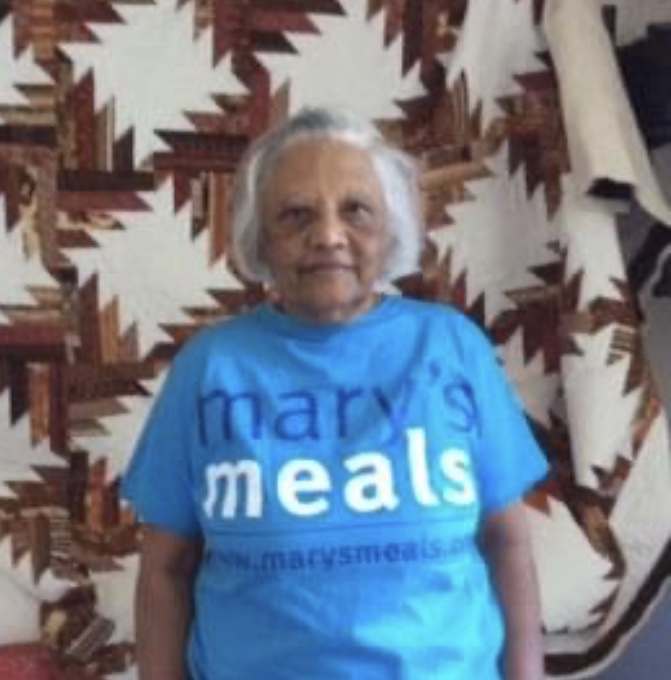 Here is Harriet's story:
"I was born and brought up in Uganda. When I left Uganda, I was 17 and at that time Mary's Meals wasn't around. My father was in business and due to impending political changes, he sold his business and we all went to India, which was a culture shock. No Hydro or running water in the village. My parents sent me to University in Mumbai which was another shock to see people sleeping on the street. I lived in a hostel with other girls. My experiences with the Adivasi tribe and my grand uncle Aloysious Soares, a writer and freedom fighter, inspired me to become a social worker. During my training, I was involved with helping families from the slums helped by Oxfam Canada and England. I was also involved in hospital work with children with cerebral palsy. I graduated and eventually found employment with The Indian Council for Mental Health working with problematic children in the school system.

"My husband and childhood sweetheart came to Canada as a refugee during the expulsion of the Uganda Asians and we married and I migrated to Canada. For 25 years I worked in a correctional treatment centre running and planning a treatment program on a unit which was the home of 30 men. I retired and continued to work with a program called Bridge which was to help bridge prison and community and helping high-risk people adjust in the community. With the kind help of the Anglican Church, we ran a program for more than 20 years with success in helping men adjust and become productive members. Unfortunately, it all ended with Covid-19.

"I have been fortunate in being able to give back many of the blessings I have received in my life. A couple of years ago, I went on a pilgrimage to Medjugorje where I encountered Mary's Meals and wanted to do something to help. That's why I am using my hobbies and my grandma status to help out the children. I am surrounded by love from family and friends and my heart is full. I hope in this little way I can give of myself and inspire others to do the same."

❤️Harriet
— feeling proud."
Meet our fabulous Toronto North team:
There are many different ways you can help by donating your time, money, thoughts and prayers.
We use cookies to provide you with a better browsing experience. By continuing to browse, you are agreeing to our Cookie Policy.
For every $1 you give, 93 cents is spent directly on our charitable activities. Thank you!
© Mary's Meals
Mailing Address
Mary's Meals Canada
PO Box 76144, Millrise RPO,
Calgary, AB, T2Y 2ZO
Charity No. 845360536RR0001
Corporation No. 830423-8