Barcelona, beans and bones
"I want to be a bone doctor when I leave school. I read about that job in a book. We don't have many of those in Liberia."
Ballah is from a large family with very little money and lots of mouths to feed.
He used to skip school because of hunger, but thanks to Mary's Meals this bright spark now has big plans for the future – and he's determined not to let anything stand in his way.
He said: "If you are not educated, you will be a failure. That's the reason I told my father I would come to school. I like science best, because science has to do with many things – like animals, plants and minerals.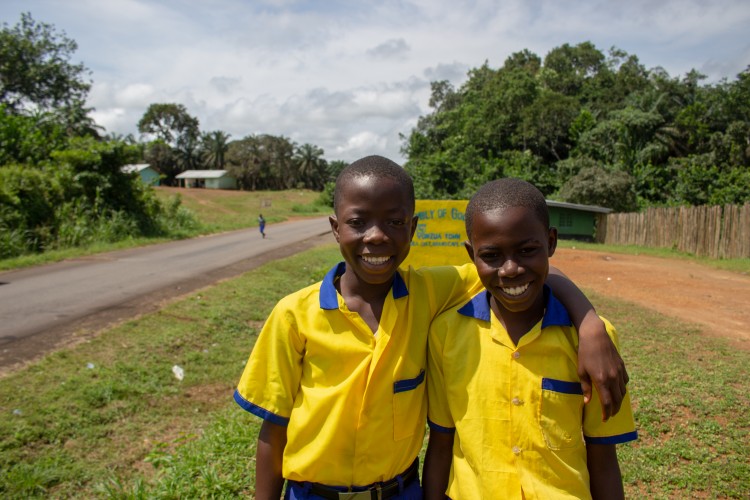 "I want to be a bone doctor when I leave school. I read about that job in a book. We don't have many of those in Liberia."
After school, Ballah helps his dad grow cassava on the family's tiny patch of farmland. Some they eat, the rest they sell to earn a little money.
There is rarely enough food to eat at home, so Ballah really looks forward to the Mary's Meals he receives at recess.
He told us: "Food is important. Before, the schools were empty. I didn't come to school. Now we eat Mary's Meals every day and more people are coming. It's really delicious! I love the rice and beans best.
"Most days, I don't eat breakfast. We get Mary's Meals at about 10am when I feel so hungry I can barely study. After eating, I feel active."
The nutritious meal not only helps Ballah concentrate in class, it also gives him plenty of energy to play football with his best friend Zinnah.
He said: "We don't have a team; we just practice among ourselves. I play number 9 [striker]. I can head the ball and kick with both feet.
"My favourite team is Barcelona, and I love Messi. I can play better than Zinnah, but if you ask him, he'll tell you he's the best!"
Although Ballah dreams of studying medicine in America, he plans to return home and use his skills and experience to help people in the community he loves.
He said: "When I qualify, I'd like to stay in Liberia and teach others how to be bone doctors."
"If a visitor came here, I would show them many places. I would take them to Lake Piso, Lake Shepherd and Bushrod Island. In my town, I would take them to our washing creek. You can swim there. I know they would like to see it."
Good luck Ballah! We're sure you have a bright future ahead of you.