Baking to Feed Hungry Children
Calgary volunteers have been spending their summertime baking up a storm to feed hungry children.
When volunteer Isabella first got involved with Mary's Meals, it was through our Little Acts of Kindness campaign. The campaign was designed to spread kindness in our local Canadian communities, while also raising awareness of the work of Mary's Meals, and the children who depend on our meals. Isabella got to work and created beautiful baskets of baked goods to give to some of the women she knew who could use some kindness on Mother's Day.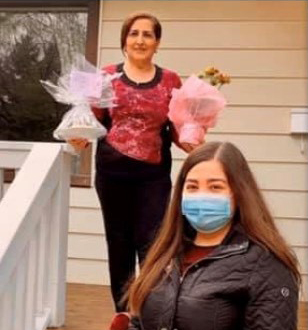 For her next creative project, Isabella got her cousin Cassandra involved and again, went above and beyond with even more fantastic baking. Isabella and Cassandra also got busy spreading the word to family and friends on social media. For two weekends in a row now, Isabella and Cassandra have been working hard, creating beautiful and delicious works of art. They have arranged for COVID-friendly pickup on the weekends, and all of the proceeds from selling these delectable delights will go towards feeding hungry children in some of the world's poorest communities.
Thank you, Isabella and Cassandra, for using your gifts to help feed children who are chronically hungry, and would otherwise miss out on getting an education. Our vision is that every child receives at least one meal every day in a place of education, and that all those who have more than they need share with those who lack even the most basic things. Thank you for helping us to move closer to that vision with your little acts of love.
Check out this video of their efforts, and some photos of some of their amazing baked goods:
If you'd like to contribute your gifts and talents to helping feed children, please get in touch, or if you would like to join our youth movement, visit our Create Your Movement page. When we put our little acts of love together, it is truly creating something remarkable, and changing millions of children's lives.